Over the past four decades Maxymillian has successfully completed hundreds of spill response cleanup projects for state, municipal, private sector, and utility clients throughout the New England region.
In that time we have consistently served as a Massachusetts Department of Environmental Protection Emergency Response (ER) and Immediate Response Action Support Services (IRASS) Contractor for the Western Region. Maxymillian self-performs the full range of spill response operations with our highly professional personnel and specialized equipment fleet. Our experienced staff are extensively trained in all relevant certifications (i.e. OSHA 40-hr HAZWOPER, 8-hr refresher, confined space entry, etc.) and maintain an exemplary safety record.
Maxymillian has also completed hundreds of Immediate Response projects over the past 40 years, including emergency construction repair at 25 disaster sites in western Massachusetts after Hurricane Irene. These response activities, which utilized 50% of the company's manpower and equipment, extended over seven months with an approximate dollar value of $15M.  Maxymillian won the American Public Works Association Project of the Year Award for Disaster or Emergency Construction Repair as a result of our efforts.
Maxymillian receives spill calls at our centrally-located Pittsfield headquarters during regular business hours (7:00 a.m to 5:00 p.m.) and through a 24-hour answering service (Berkshire Communicators) during non-business hours and days. The number to call for spill response services is 413-499-3050. We own our equipment, therefore all equipment is available 24 hours a day, 7 days a week and able to respond to a cleanup within western Massachusetts in a 2 hour time frame.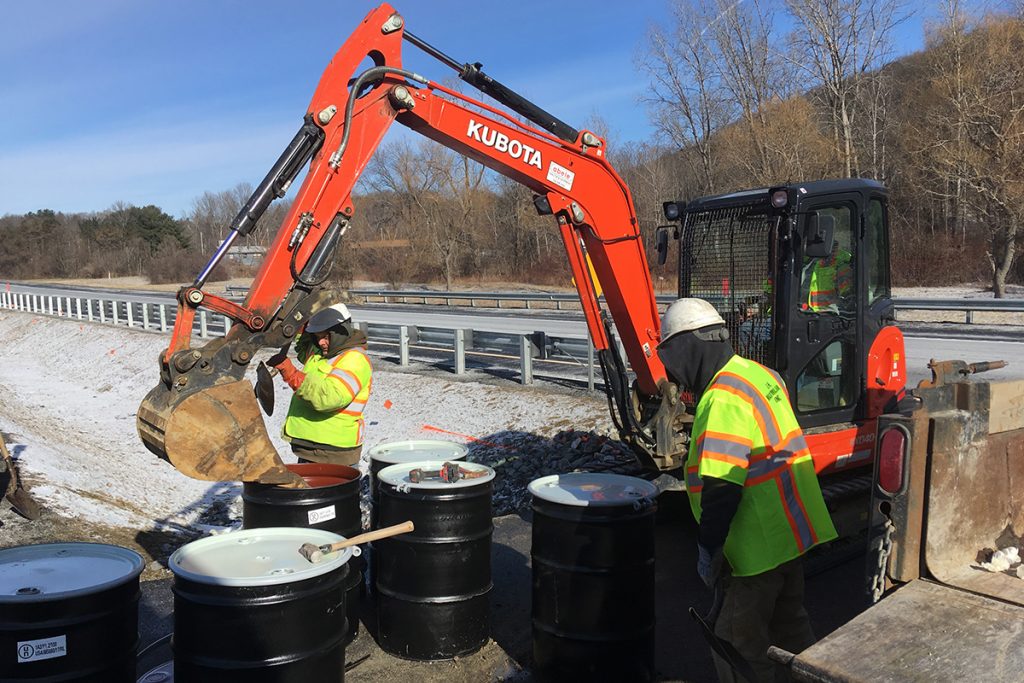 Spill Response:
Collection and containerization of spilled product,
Excavation of contaminated soil,
Contaminated water collection,
On-site water treatment,
Material Handling (stockpiles, rolloffs, drums, trucks) of soil & debris,
Containerization (drums, frac tanks, vacuum tankers) of contaminated liquids,
Waste management, transport & disposal of contaminated soil, debris, and water,
Cleanout of catch basins,
Sweeping of roadways,
Surface water remediation,
Underground storage tank (UST) and Above ground storage tank (AST) removal,
Structural support (underpinning, sheeting, shoring) for excavation beneath buildings,
Confined space entry