22 News WWLP.com
March 14, 2019
Link to Article & video clip >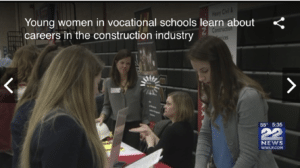 SPRINGFIELD, Mass. (WWLP) – Hundreds of young women from 13 western and central Massachusetts vocational schools heard Lt. Governor Karyn Polito urge them to take advantage of construction job opportunities.
This was the third annual young women's job fair and conference held at Springfield Technical Community College.
"We must make sure we're engaging more women in those jobs," Polito said. "I think about five percent of the jobs in the construction industry are women. We can do better than that."
Women who now earn their livelihood in construction were there to instruct the high school students in job opportunities in the building trades.
"It was empowering," Michelle Wright, who works as a carpenter in Boston explained. "I feel like I can do anything. It made mentally, financially more stable then I have ever been."
The upbeat advice given to young women like Katelyn Sawyer, still uncertain about choosing a career, made a positive impact.
"I just think this is a great opportunity for any woman or a man," said Sawyer
These young women heard that, outside of the construction industry, women earn 84 cents for every dollar earned by men doing comparable work.
They expressed enthusiasm about securing a well-paying job in construction with pay on a par with that of their male co-workers.